CT Scan facts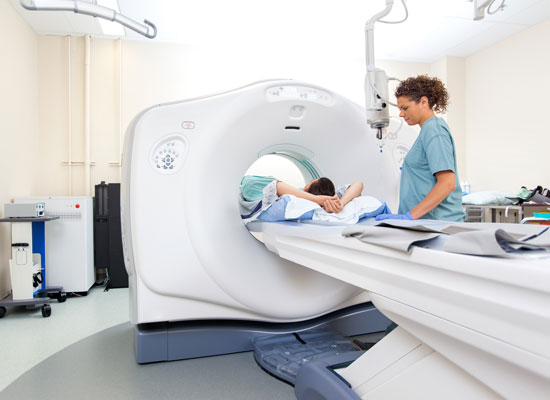 CT scanning adds X-ray images with the aid of a computer to generate cross-sectional view, of anatomy.
CT scanning can identify normal and abnormal structures and be used to guide procedures.
CT scanning is painless.
Iodine-containing contrast material is sometimes used in CT scanning. Patients with a history of allergy to iodine or contrast materials should notify their physicians and radiology staff.
What is a CT scan?
Computerized (or computed) tomography, and often formerly referred to as computerized axial tomography (CAT) scan, is an X-ray procedure that combines many X-ray images with the aid of computer to generate cross-sectional views and, if needed, three-dimensional images of the internal organs and structures of the body. Computerized tomography is more commonly known b its abbreviated names, CT scan or CAT scan. ACT scan is used to define normal and abnormal structures in the body and/or assist in procedures by helping to accurately guide the placement of instruments or treatments.
A large donut-shaped X-ray machine or scanner takes X-ray images at many different angles around the body. These images are processed by a computer to produce cross-sectional picture, of the body. In each of these pictures the body is seen as an X-ray "slice" of the body, which is recorded on a film. This recorded image is called a tomogram. "Computerized axial tomography" refers to the recorded tomogram "sections" at different levels of the body.
Imagine the body as a loaf of bread and you are looking at one end of the loaf. As you remove each slice of bread, you can see the entire surface of that slice from the crust to the center. The body is seen on CT scan slices in a similar fashion from the skin to the central part of the body being examined. When these levels are further "added" together, a three-dimensional picture of a organ or abnormal body structure can be obtained. Than I have given you the list of other specialized procedures.
Scanning Service
INFORMATION - Hispeed N ll Series 7.05 Multi Slice CT Scan. Vipro Ge.company Areb
Certmark AERB CT 28/ 58 - G.S. Dual Ge. Comp.
CT- BRAIN & ORBIT AXIAL & CORONAL SEC.
CT- BRAIN + ORBIT + PNS AND ORBIT AXIAL & CORONAL SEC.
CT - MASTOID TEMPORAL BONE HRCT AXIAL & CORONAL SEC.
CT- FACE AND NECK + BRAIN
CT- CERVICAL SPINE + THORATIC SPINE + L.S. SPINE
CT- THORAX + THORAX (HRCT)
CT UPPER ABDOMAN
CT LOVVER ABDOMAN
CT WHOLE ABDOMAN + CT KUB REGION
CT NECK AND PNS
CT- THORAX + UPPER ABDOMAN + NECK + WHOLE ABDOMAN
CT- PELVIS + HIPS JOINT
CT JOINT SEGMENT ( ANYONE)
CT- PNS + TEMPORAH + SELLA ( 152 MM CUT) LIMITED CUT
CT- PITUITARY CT - SELLA VERY THINCUT
CT - T.M. JOINT
CT- GUIDED :- SPECIAL PROCESS
CT- GUIDED SITE MARKING
CT-GUIDED ASPIRATION BIOPASY
CT- SCAN ALL JOIN /WHOLE BODY SUPINE PRONE/ LATERAL OBLI. VIEWS
3D CT SCAN :-THREE DIAMENTION CT SCAN
3D BUILD MODEL :

ANGIO
CT BONE
CT LUNGS
CT SOGT
MPUR
NAVG
CF NAVG SMOOTH
REFORMATION DETAIL
REFORMATION STANDARD

3D BONE WHOLE BODY JOINT VVHOLE BODY BONES BUILD MODAL.
3D FACE/ NECK 3D CERVICAL SPINE- 3DI THOROCIC SPINE WITH 3D
L.S. SPINE WITH 3 D HIPS JOINTS WITH 3 DI BOTH UPPER LIMB WITH 3 D / BOTH LOWER LIMB WITH 3D.
CT- ABDOMAN (MPR) (MIP)
CT. GUIDED BIOPSY
CT 3D NASAL BONE
CT Scan Angiography
CT SCAN BRAIN ANGIO
CT SCAN. CAROID ANGIO
CT SCAN - AORTIC ANGIO CT SCAN PULMONARY- ANGIO
CT SCAN - ABDOMINAL ANG101 CT SCAN RENAL ANGIO
CT SCAN - URO ANGIO GRAPHY
CT SCAN UPPER LIMB ANGIO
CT SCAN LOWER LIMB ANGIO
CT SCAN SAINO GRAM
Specially
CT SCAN VIRSUAL BRONCHOSCOPHY
CT SCAN COLONO - SCOPHY
CT SCAN DENTA SCAN
CT SCAN - LUNGS 3D CT SCAN LUNGS NAVIGATOR
CT SCAN WHOLE BODY SCANING SERVICE
CT SCAN GUIDED BIOPSY SCANING SERVICE
CT SCAN - UROGRAPHY SCANING SERVICE
CT SCAN - ANGIO RAPHY SCANING SERVICE
CT SCAN - 3D CT SCANING SERVICE